Let me just tell you that hobbling around the bush on crutches in no easy task but after my experiences this past weekend I  feel as though I am now a fully competent 3×3 off-road "crutcher"!!!!! I had to learn pretty fast I must say…
I suffered an unfortunate sporting injury two weeks ago and I've been hobbling around on crutches ever since. My husband left for Senegal this past Saturday for a two week work stint so I've been fending for myself ever since (with competency for the most part I must add). I am fairly capable of looking after myself now, I can do most things with the exception of being able to drive, that (like so many of the canvases inside my studio) is still a work in progress!
Whenever my husband goes away on work trips I try to keep myself as busy as possible to make the time pass quickly. Apart from spending time in my studio any bushveld related activity is my preference.  I was delighted to receive an invite last week to join some friends who work in  Nambiti Private Game Reserve (situated just outside Ladysmith KZN). I worked in Nambiti from 2012 to 2013 before leaving to pursue painting full time and I've remained very close with the staff I worked with.
I visit Nambiti often to see my friends. There are a few lodges in the reserve that stock my artwork so I often use that as an excuse to visit the reserve. Elephant Rock Private Safari lodge was a wonderfully fun and cheery place to work, the managers are amazing, full of life and character and so when It was suggested I travel up to join them for a bush Picnic I wasn't going to say no. My mom and I are very close , equally as both bush mad as the other and so I asked her to accompany me on the outing.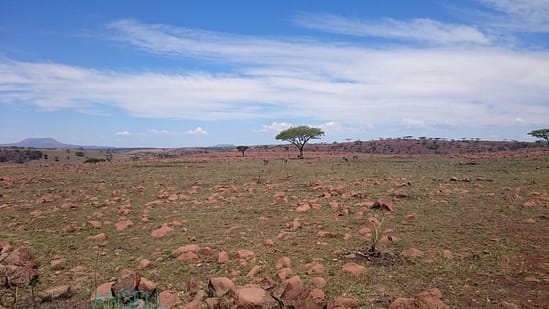 Nambiti is a beautiful place to visit; It is home to a wide variety of flora and an incredibly diverse landscape. It houses many different animal species, big 5 included. Fishing is a favourite "free time" activity for many of the staff that work there. One of the best things about working at Elephant Rock was that is has its own private dam situated below the lodge. As I once told my very concerned Grandmother "it IS safe to go fishing in a big 5 reserve, you just need to check where the hippos are and then go to the OPPOSITE side of the dam, and then you just keep an eye out for elephants… and lions".
Soon after we arrived in the reserve on Sunday we set off  in the cruiser, journeying up to the north of the reserve to a beautiful picnic spot called "Cascades". As with most places in Nambiti Cascades is un-fenced and visiting there requires that you keep an eye out for any animal type visitors that might want to join your picnicking or fishing efforts.
The picnic site is situated at the bottom of a beautiful gorge with a towering cliff face in front of it. The little two track that leads down to the river is quite precarious, checking that the area is clear of all visible elephant and/or buffalo activity is a prerequisite to heading down there as the layout of the location makes it very easy to get cut off from your escape route.
Sunday was a gorgeous day, very hot, about 35 degrees C. The majority of dams in Nambiti are very dry at the moment due to lack of rain and so we  knew there was a chance that the elephants would make their way down to the river in search of water but the chance of animal encounters is a given any time you venture into the bush so we weren't about to let the thought of that ruin our outing.
We didn't take long to settle down in complete relaxation at Cascades, the able bodies among us  set off eagerly to go fishing in the pools upstream from the picnic site- tugging at my heart strings as they did so! I really enjoy fishing but I foresaw accidents in my near future if I attempted to partake in such activities in my condition, and so, in efforts to appear responsible I chose to sit it out, relaxing in the shade of an old Combretum tree instead.
Despite the rather low water level, once close to the gentle churn of the lethargic rapids the audible connection from fisherman to picnickers is made near impossible. In addition, as any good fisherman knows, once you start fishing and the fish start biting, you don't focus your attention elsewhere.
The fish were indeed biting, the sun was baking and everyone was having a wonderful time. I was fully relaxed, lost to my surrounds in quiet contemplation of all things pleasant. My contemplations  were cut short however, when my olfactory senses suddenly entertained by something all too familiar, something seemingly far off yet strangely pungent at the same time…there is no mistaking the smell of elephants in the bush. Looking around me though, there was a fair amount of old elephant dung lying about and I wasn't sure if a change in wind direction had  now bought this to the attention of my nostrils. Before I could ponder the scent much further my ears picked up a faint sound, faint yet strangely sharp and indicative at the same time. The fishermen were by this stage quite high up the river, consumed by their fishing activities with little regard for much else. Rather than leaving my ears and nose in their current state of question I thought I might take a little "crutch shuffle" downstream to see if I could gather further information.
And so off I hopped…
I must say that I'm really quite impressed by my command over my recently acquired means of locomotion – friends and family might tell you grossly embellished tales of falls, trips and tangles that I've endured in my short crutching career- my husband would certainly tell you that he has "very real" concerns of the possibility of me sustaining another injury subsequent to the poor level of my crutching abilities, but I know from PERSONAL experience that people tend to be overly dramatic and that I've got it covered… And so I hopped along peacefully, I crutched slowly over the rather treacherous terrain that lay before me, mindful of the obstacles that lay in my path, hopping gracefully over rocks, fallen branches and the occasional elephant dung pile too of course. Although I crutched thoughtfully, I crutched with purpose, making my way to a clearing downstream where I hoped I might get a view of the opposite side of the river. I managed to journey with perfect timing because just as I neared the clearing I was greeted by the sight of the entire Nambiti elephant herd, charging at full force down the river bank towards the cool water below, just in front of me!!!
So I found myself in that all too familiar position where caution meets wind in one swift throw…
I knew very well that the primary objective of the Elephants was to get down to the water to drink but I also knew that we had set up our picnic in a favourite spot of theirs and who's to say they wouldn't want to pay that spot a visit. I had probably covered a distance of about 150 m on my little expedition, not terribly far by normal standards but quite an alarmingly substantial distance when the terrain is treacherous and you're locomotively challenged AND there are fast moving elephants just behind you!!!Wow, did I cover ground, I swear I left a little dust trail behind me clearing rocks, branches and dung piles with seemingly effortless precision.
My mom and one of my friends,  Piet were relaxing by the picnic spot instead of venturing to the river, they had seen me wander off and I could now tell by the concerned/ impressed look on their face that they knew that anyone crutching at such a speed was doing so for good reason!! I was able to shout a warning to them that they ellies were coming which in turn caused them to jump into action. I don't' think I had even made it all the way back before Piet had packed up half our picnic, throwing blankets and food and all sorts of paraphernalia into the open car with reckless abandon, his efforts reflective not of my lack of speed but more so of his impressively fast, ridiculously impressive packing-up skills. My mom, in a way that only a concerned mother could, managed to attract the attention of the oblivious river crew who although they couldn't hear what she was shouting, quickly figured out that the area needed to be evacuated. The bush is quite thick down by the river and visibility is fairly poor once you venture out of the picnic spot clearing, by this stage we could hear and most definitely smell the ellies, they were very close to our exit and we knew that we needed to move with extreme determination if we were going to get there ahead of them.
We piled onto the cruiser (which is  a task in itself  when you can only use one leg let me tell you) and we began to edge forward,  slowly, not wanting to collide with anything large and grey that could possibly be lurking on the other side of the thickets. As we rounded the corner we were greeted by the beautiful view of the herd, making their way steadily towards our spot, allowing us just enough time to gap it up the two track exit road. We drove to the lookout spot just above the cascades to appreciate the jovial herd from a safe distance and were delighted to be treated to a sighting of the newest member of the family, the tiny baby of the heard matriarch.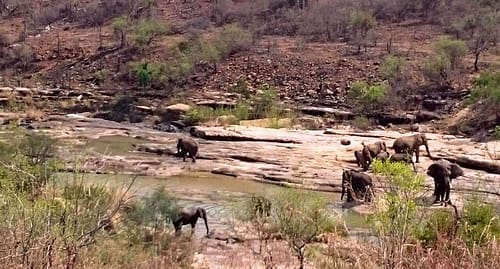 We watched the elephants for quite some time, trying to determine their intentions for the rest of the afternoon, hoping that they would move on from the picnic site. We went for a game drive to pass time and upon our return the elephants had moved off and we deemed it safe to resume our picnicking activities.
All in all it was a lovely little adventure.
I have been most frustrated by this injury, unable to partake in my daily running activities, unable to attend fitness classes… thankful though that my kind of painting doesn't always require the use of both ankles. I am, like so many of us a firm believer that everything happens for a reason, I've just been struggling to find the reason behind this particular occurrence. I am pleased to say that since this little encounter I have now managed to conjure up reasoning that I find to be satisfactory…  which goes as follows; Had I not been injured I would most definitely have been fishing, had I been fishing the entire party would most probably have been together down at the river and we would NOT have noticed the approaching elephants, most probably not until we looked up to see them enjoying a "flying fish" beer from our cooler box! From there things would have got very interesting, not only because we are very protective over our beer. Most importantly, had I not been injured I would never have known just how fast I can move on crutches under pressure, which is definitely a very handy thing to know!!
I only wish my husband had been there to witness my impressive execution, it would have made the  numerous times that he's seen me wipe out over these past few weeks far less significant!!
Never the less this experience just goes to show that there's never a dull moment in the bush.